CCTV

Closed-circuit television (CCTV), also known as video surveillance, is the use of video cameras to transmit a signal to a specific place, on a limited set of monitors. It differs from broadcast television in that the signal is not openly transmitted, though it may employ point to point (P2P), point to multipoint, or mesh wireless links. Though almost all video cameras fit this definition, the term is most often applied to those used for surveillance in areas that may need monitoring such as banks, casinos, airports, military installations, and convenience stores.
Variants
Dome/IR Dome – Range upto 20 mtrs.
Bullet/IR Bullet – Range upto 80 mtrs.
PTZ Camera
DVR
NVR
Power Supply For Camera
BNC Connectors For Camera
Power Connectors For Camera
Biometric & Access Control
Biometrics refers to metrics related to human characteristics Biometrics authentication is used as a form of identification and access control.
It is also used to identify individuals in groups that are under surveillance.
Biometric identifiers are the distinctive, measurable characteristics used to label and describe individuals.
Door Access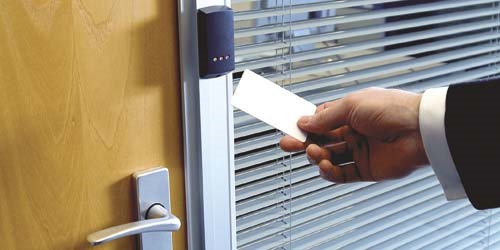 Designed to work together seamlessly, Access Systems' products provide you with the technology you need to deliver sophisticated security solutions—from the simplest to the most challenging.